Wonderland City, as the blurb goes, is not just about elegant places but also (perhaps even more so) about events that show a certain aesthetic sensibility.  We are therefore gratified and excited to highlight some gatherings which we feel sure will be of interest.

Building on the success of last year's event, on Hampstead Heath, The Society of Salome is holding another late-summer pastoral party, THE GREAT EDWARDIAN SUMMER PICNIC, at a somewhat more private but very attractive location on the 28th of August.  Fenton House is a National Trust property with gardens and a very nice C17 villa.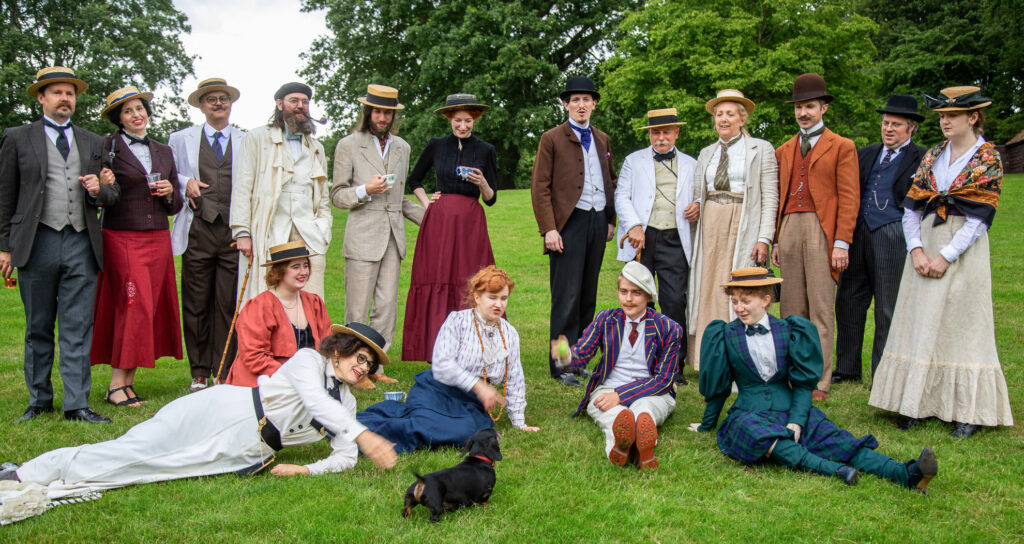 The hosts point out that this is aimed at "all the lovers of turn-of-the-century fashion and culture."  Past events of the Society have been well attended and manage to combine some serious sartorial excellence with a very relaxed, welcoming feel for those (like your writer) who are relative beginners when it comes to the dress code ("1900s-1910s daywear").  See the Facebook Page for full details.

An entirely new line of historically-inspired levity is coming our way in the form of the
2022 ARMISTICE BALL, at the Brooklands Museum (SW of London), on October 22nd.  The party is inspired by the celebratory soirees that became popular after the Great War; known as 'victory' or 'armistice' balls. The music, dress, décor, etc. will all reference the 1918-1929 period during which such events remained popular.
The organiser, Kieran Hazzard, discovered this bit of history through an Agatha Christie story starring Poirot called "The Affair at the Victory Ball".  From there it was a small step to researching this fascinating phenomenon and coming up with the idea of re-creating one of these events where "survivors of the Great War each year [threw] these huge raucous parties. A real celebration of peace and being alive."
There was great interest too, in how these parties coincided with the introduction of Jazz music to Europe: "the Original Dixieland Jazz Band played the Armistice Ball at the Albert Hall in 1919 […] these balls were major cultural turning points, and what a thing to experience!"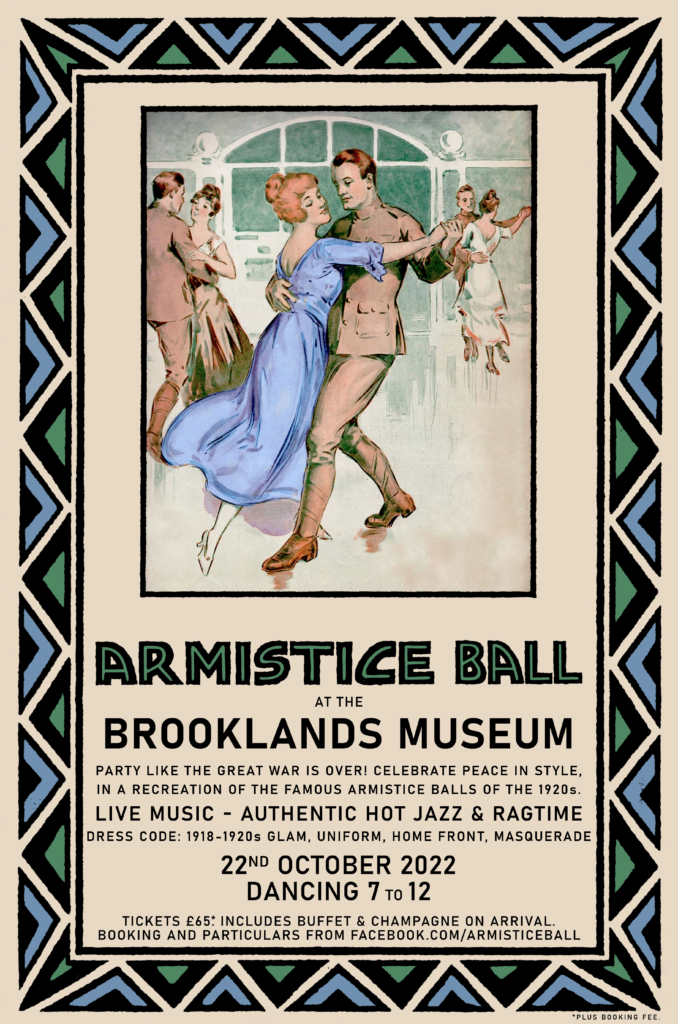 Brooklands is well known to people with an interest in period motoring, having hosted early aviation and motor racing events, served as Royal Flying Corps aerodrome and Vickers aircraft factory during the conflict and a famous motor circuit in the inter-war years. "The clubhouse has gorgeous Art Deco interiors and it was the meeting place for pioneers and daredevils. It's perfect for a ball of this kind."
In terms of clothes, the organisers specify that: "the dress code is 1918 to 1920s, because Armistice Balls continued as annual events for more than a decade, but within that period guests are encouraged to use their imagination. The original balls were an anarchic mixture of men and women in fancy dress, masquerade, formal wear, and uniform. We're expecting to see lots of drop-waist ball gowns, black tie, and military uniform […] If anyone is looking for inspiration, we've got a bunch of links on our event listing."
On the music front, Hazzard recruited Nick Ball, who he says "probably knows more about the jazz drumming and the early history of jazz than anyone else … As well as [donning] fantastic period outfits, everyone will be able to dance along to authentic irresistible early jazz."
Dear reader: if all this doesn't make you want to to attend, we don't know what will!

THE CANDLELIGHT CLUB, the speakeasy night that has become a staple of London's prohibition-themed party scene returns in September and the rest of 2022 with dates on September 17th, October 8th (its 12th anniversary party), October 28th – 29th (Halloween), November 18th, December 9th and New Year's Eve.
See our review of this regular club night and its unique atmosphere HERE. If prohibition had been actually as good as this, they would have never repealed it.