The aim of Wonderland City is to encourage and share with our readers the experience of "elegant people in elegant places". A little while ago, we mentioned one pleasant outing as part of our profile of the brilliant Coral Room, at the Bloomsbury Hotel, which generated much positive commentary. More recently, we organised another soirée with drinks and dinner at Fischer's, which we have already reviewed separately on this website.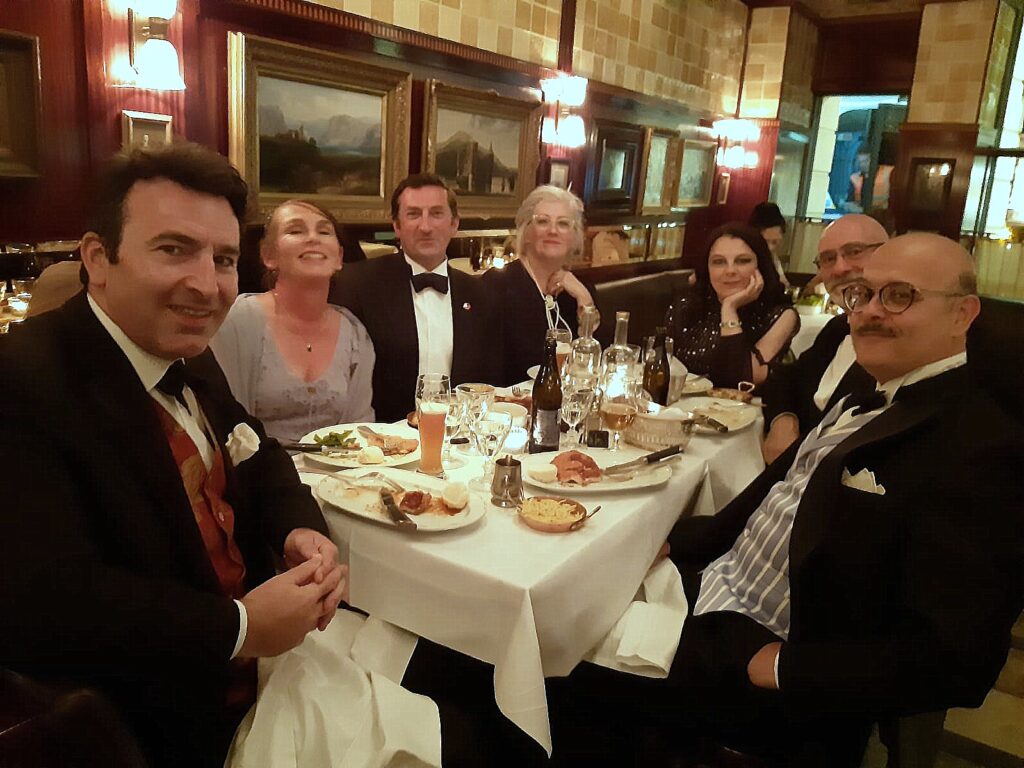 With London and other places re-opening almost completely after the protracted darkness of lockdowns, desperately ill people and health staff pushed to the limit, it seemed particularly enjoyable to dress up and put a bit of dash about. After months of (comparatively) dressed-down life, everyone enjoyed donning their finery, so we decided on black tie, for this evening. Fischer's is a great place for this sort of affair, a relatively intimate group of friends. It is a sophisticated space but also a cosy, human-scale one.
The first thing worth mentioning is the quality of the cocktails. Like most Corbin & King creations, Fischer's identifies itself as a sort of grand café / brasserie. It is not, in other words, a specifically cocktail-oriented bar. And yet, the classics we ordered like the Old Fashioned, Manhattan and Martini were remarkably well executed and, therefore, delicious. The food order, being heavily oriented towards Austrian cuisine, consisted largely of variations of Schnitzel and other alpine specialties but, for instance, a starter of spinach, gruyère & cherry tomato quiche was equally commendable. We've only good things to say about the wine and (naturally) beer selection, too.
What a properly set
table looks like,
for dessert
Despite a busy room (what a joy to see full restaurants again, on a Thursday!) the service was solicitous. In hallmark C&K style, the table setting matched the décor in reproducing that Golden Era sense of ease and sophistication. Not least, for inveterate hat wearers like your reporter, the provision of a proper place to hang a boater was greatly appreciated. These sorts of touches really make a difference.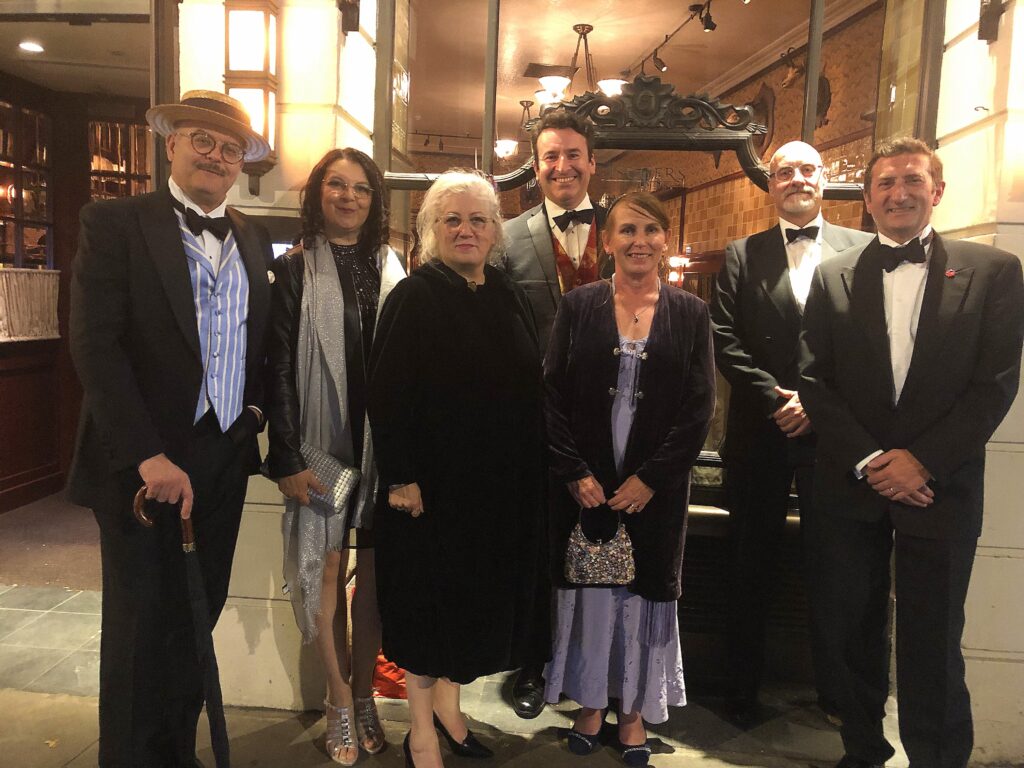 Drinks and dinner were followed by a short stroll down Marylebone High Street, before we each headed home. As often happens when a group like this interacts with the public, there was no shortage of compliments. I do not mention this for reasons of vanity but rather in the hope that such displays will inspire others to embrace elegance, however they choose. We hope you enjoyed this brief report, that it will inspire others to occasionally do more than just rock down to the local but, rather, put on some finery and show 'em how it's done. Keep an eye on the Wonderland City calendar for more gatherings, of course, and please leave your comments or suggestions.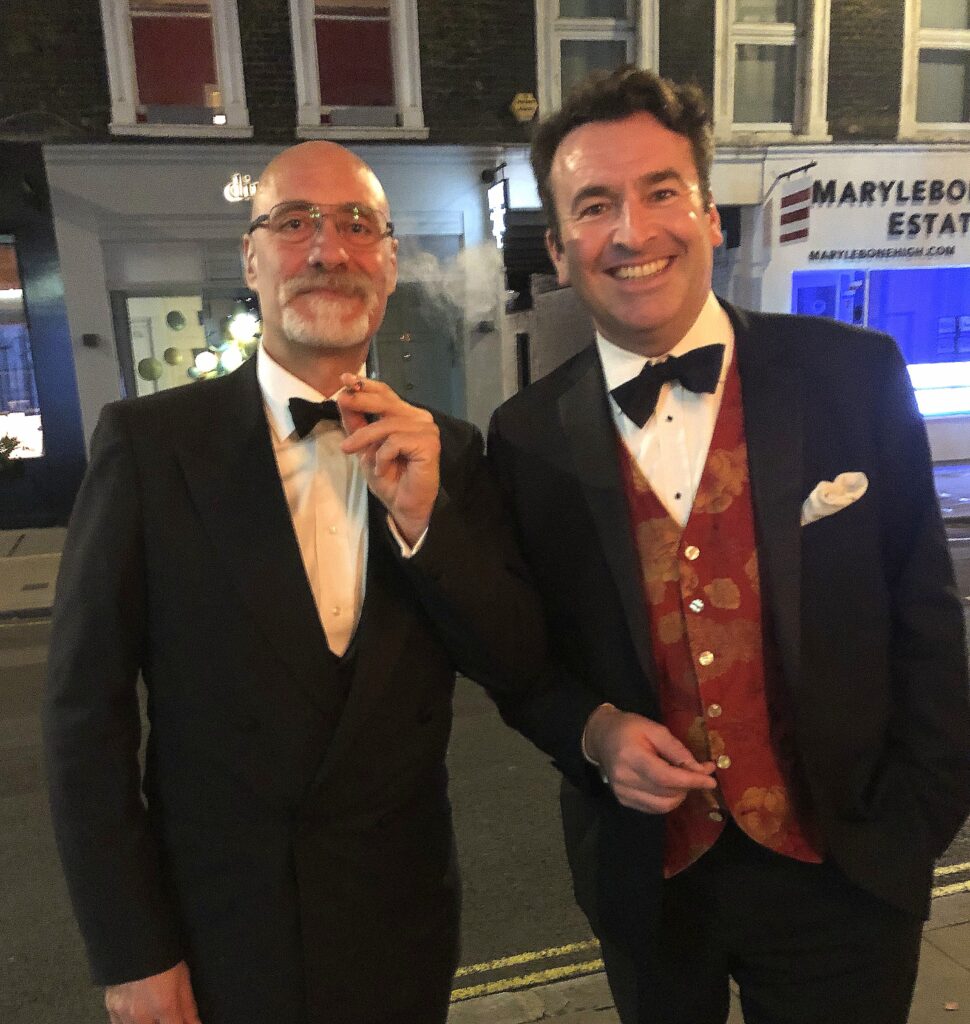 Enjoying a smoke before
walking into the night