Given the sharp impact of the pandemic on the hospitality and entertainment industries, our intention to facilitate greater interaction between classically elegant people and similarly graceful places has required a bit of extra footwork. In several cases, we felt it necessary to check out in person how various established as well as new (or renovated) spots are getting on.
A little while ago, we wrote about some interesting venues near Kensington High Street and Hyde Park Corner. It was gratifying to see that those refined places that have survived the recent unpleasantness are now faring well and offering the sort of Golden Era elegance to which we aspire.
More recently, we undertook two more tours of inspection, as it were, and have further good news to report. To avoid repetition, let's point out first of all that the warmth of the welcome and availability of the staff at every venue we visited (unannounced) was particularly gratifying. Equally, considering our visits were timed around mid-week, the custom seemed robust, jolly and reasonably spruce.
To Covent Garden
Our first foray was at the lower end of Covent Garden, down to the Strand. The storied Simpson's in the Strand was, and remains at this writing, sadly closed.
A disappointment, to see Simpson's in the Strand closed…

Very near it, however, the Savoy continues to be a locus of old-world sophistication. Some of its offerings, like Kaspar's, were still being revived but the Savoy Grill was abuzz with a mix of prosperous as well as apparently 'in-town-for-the-day' clientele. The latter always gladdens our hearts, insofar as they are more likely to 'make a bit of an effort'. The pandemic has only reinforced plutocrats' assumption that they are too good to dress well or even decorously. Also very much in action, was the Beaufort Bar; looking as glamorous as ever.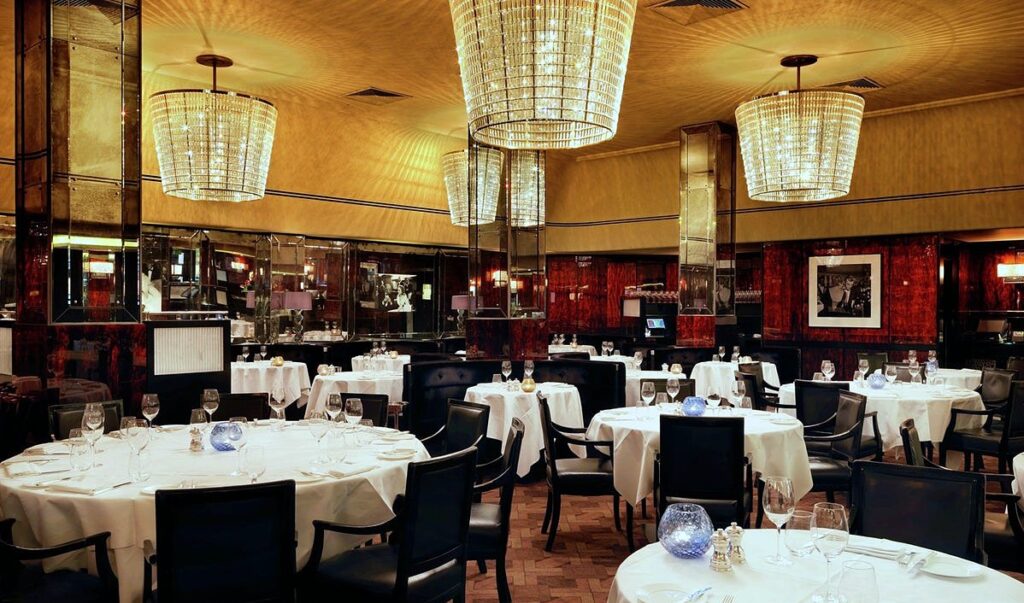 At the Aldwych, the dining room of The Delaunay was doing cracking business ("The Counter" was still closed). Like other Corbin & King creations, it is as good or perhaps better than the Golden Era palazzos that inspire it and we shall be profiling it separately very soon.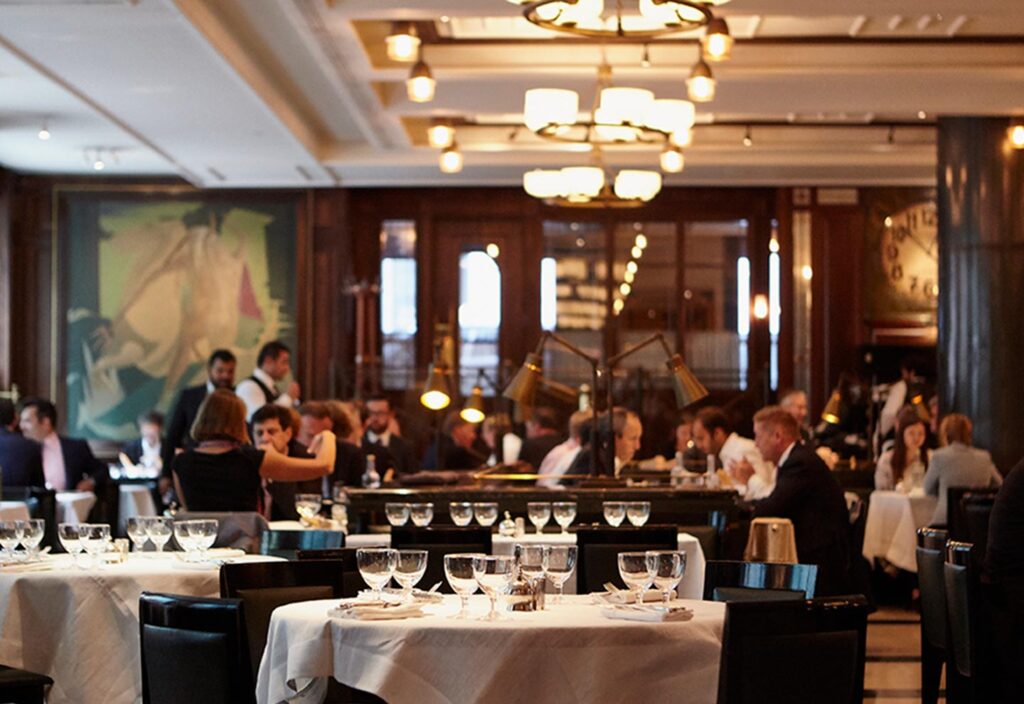 An interesting new place could be found a mere block away, at the Theatre Royal Drury Lane (entrance on Catherine Street). A major renovation of the entire structure has yielded two new hospitality spaces of note. On the ground floor, past the main theatre lobby, you will find a new 'cocktail bar' named Cecil's (after Sir Cecil Beaton). The room to the side of the main bar looks particularly nice. Upstairs, the Grand Saloon doubles as the place for refreshments during intermissions and an afternoon tea spot during the day. Taking afternoon tea in swanky surroundings, incidentally, seems to have become easily as popular in 21st century London as it was one hundred years ago.

We took a quick swing by Clos Maggiore, going full tilt and still looking grandly romantic and deliciously French (we exquisites owe so much to the French…). To all these Covent Garden locations, of course, we must also add the evergreen Rules as well as, further north, the delectable Margot.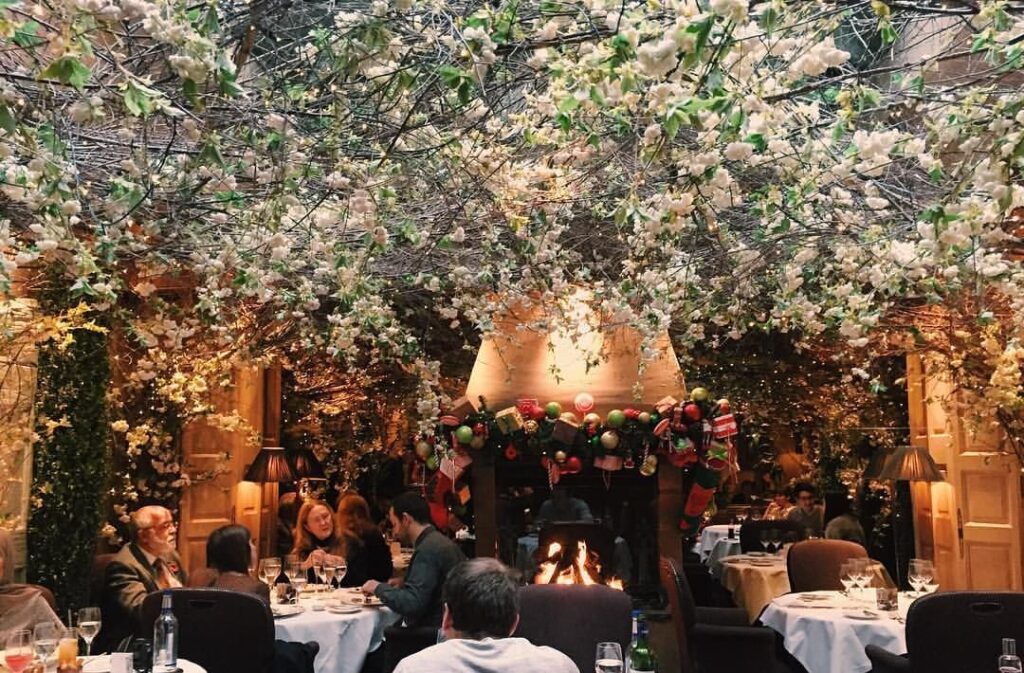 In shopping terms, Covent Garden is largely dominated by tacky tourist traps but all is not lost. For a quick top up in the nicotine department, we heartily recommend the Segar & Snuff Parlour, at the SE corner of the old Market Hall in the Piazza. It is a small but quite well-stocked tobacconist. Perhaps more importantly, it is staffed by knowledgeable and welcoming people. Another worthwhile retail destination is Mariage Frères, a notable French firm of tea merchants. It comprises a lovely, bright and very high-end (in quality and price) tea emporium and a team-room upstairs that looks very promising.

To High Holborn
A couple of weeks later, our next jaunt was to the vicinity of High Holborn, an area that has long been characterised by a mix of big-city anomie interspersed with much wonderful architecture and, more recently, hospitality. The current offerings are such that, should a retrospective sophisticate find themselves in the area, they would have no need whatsoever to scutter off to the West End proper, nor the City, let alone the faux-edgier precincts of Clerkenwell and Shoreditch. Holborn has 'arrived'.
Any historically-minded reveller based in London will probably already be familiar with the glorious gin palace known as the Princess Louise. Also within brolly-twirling distance of High Holborn tube station, however, one can also find the Rosewood London (opened in 2000, in the magnificent 1916 former offices of the Pearl Assurance) as well as L'Oscar, a hotel contained in the former Baptist Church House, on Southampton Row. The Rosewood features two attractive spaces, the bar knows as Scarfes and the plainly named Holborn Dining Rooms. The latter include a very potable Gin Bar. We will cover both venues in a later article.
L'Oscar opened in 2018 and its interior can only be described as theatrical. There is a perfectly nice bar (cheekily if possibly unironically, named of The Baptist) and a rather flashy restaurant but, for our money, the most refined space is the sitting room next to the reception.
Another trend that seems to us on the rise in London is the number of high-end bars that feature Jazz-oriented live music (typically in a combination of days spanning from Thursday evening to Sunday brunch). Both Scarfes and the bar at L'Oscar fall in that category. Our inquiries as to whether dancing is encouraged were met with some puzzlement but not categorical refusal.
Further up the largely forgettable Southampton Row, you'll find the Kimpton Fitzroy (2018), which is a rather polished reincarnation of the historic Hotel Russel of 1900. This grand eclectic-style building faces Russel Square and contains several hospitality spaces: not all of which were fitted out to standards commensurate to the original fabric of the building. However, the main bar, Fitz's, is rather spectacular, if a bit Gothic in décor. The most impactful space at the Kimpton is almost certainly the complex of entrance-lobby-stairs: really exemplary of the maximalism that reigned supreme when European civilisation was far less self-conscious and introverted.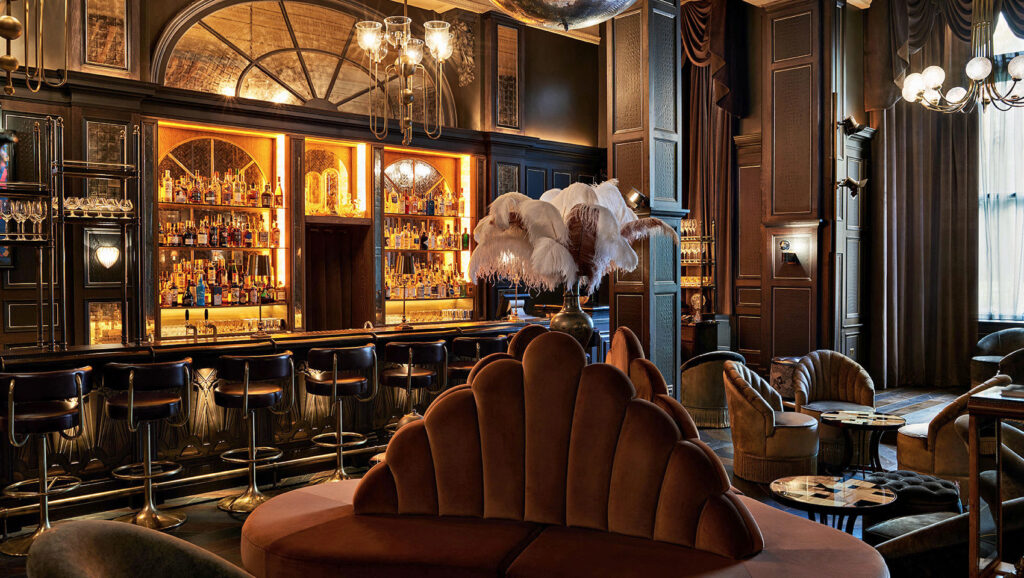 Hopefully this article has provided our readers with some ideas for special outings beyond the already rich range of well-established spaces. And, of course, we will keep our faithful update subscribers in the loop as and when we will organise some extravagant soirées in any of these admirable places.